Angle Grinder Ø 6mm ELORA 5015, for grinding, polishing and deburring
Availability:
Available on backorder
SKU:

5015
---
Angle Grinder Ø 6mm 5015 by Elora Germany, is a tool for grinding, polishing, and deburring tasks, offers stepless speed regulation, low vibration, and an ergonomic design for one-handed operation. Max. free-running speed 22,000 rpm and operates at 6.3 bar, emitting a maximum sound level of 72 dB(A) Lp A.
Available on backorder
Description
Angle Grinder 5015 Ø 6mm, designed for grinding, polishing, and deburring applications. This compact yet powerful tool is engineered to deliver exceptional performance with user comfort in mind.
The Angle Grinder features a robust yet lightweight housing, ensuring durability and easy handling. Its ergonomic design is shaped for easy one-handed operation, providing precise control over your tasks. The tool's low vibration design minimizes user fatigue, allowing for extended periods of comfortable use.
Angle Grinder Ø 6mm ELORA 5015
One of the standout features is the stepless speed regulation, which can be easily adjusted using a safety lever, providing flexibility to match the tool's performance to your specific project requirements. This is particularly valuable when working on tasks that demand varying levels of finesse.
The grinder is equipped with a non-slip, cold-insulated handle that ensures a secure grip and reduces the transfer of cold temperatures to the user's hand, making it suitable for work in various conditions.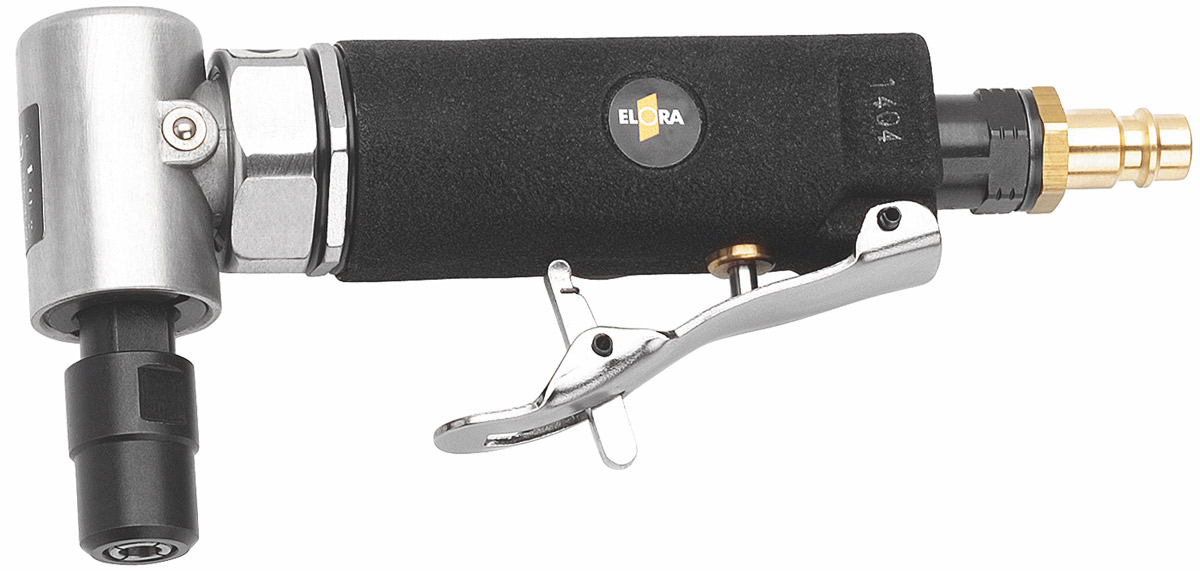 With a 6 mm collet, the angle grinder 5015 can accommodate a range of accessories, offering versatility in your work. It operates at an air pressure of 6.3 bar, delivering a maximum free-running speed of 22,000 rpm for efficient material removal.
Despite its powerful performance, the Angle Grinder maintains a relatively low noise level, with a maximum sound pressure of 72 dB(A) Lp A, contributing to a comfortable and tolerable work environment.
The tool's average air consumption is 270 liters per minute, making it well-suited for sustained use. For optimal performance, it is recommended to use an 8 mm inner diameter hose.
Elora Germany includes a brass nipple in the package, ensuring that you have everything needed to start using this efficient and versatile angle grinder immediately.
In summary, the Angle Grinder 5015 Ø 6mm by Elora Germany combines power, precision, and comfort, making it an excellent choice for professionals and DIY enthusiasts alike for a wide range of grinding, polishing, and deburring tasks.