Torque Multipliers
EAW2 Battery Torque Multiplier 115-4100Nm Alkitronic
SKU:

EAW2
---
Low running costs: The low-wear, brushless, synchronous motor is maintenance free.
● Health-preserving: Low weight, ergonomically designed, low noise
emissions. No noise protection necessary.
● High performance:Two lithium-ion battery packs ensure up to 360 screw
joints in a row. Each battery features an LED charge level indicator.
● Exact shut-off torque even at low battery levels
Description
EAW2 Battery Torque Multiplier 115-4100Nm Alkitronic
Applications
alkitronic® EAW: Battery powered 2-speed torque multiplier for torques from 90 Nm to 4,000 Nm. Angled design with high operating comfort.
● Mobile and always ready for use: Compact design for convenient
working in limited spaces or without power supply.
● Extremely short fastening cycles: Fast gear for run down and power
gear for highest torques and precision.
● Efficient operation: Fast and easy gear-changing, great torque range –
each gear has eleven torque values to choose from.
Advantages
Low running costs: The low-wear, brushless, synchronous motor is maintenance free.
● Health-preserving: Low weight, ergonomically designed, low noise
emissions. No noise protection necessary.
● High performance:Two lithium-ion battery packs ensure up to 360 screw
joints in a row. Each battery features an LED charge level indicator.
● Exact shut-off torque even at low battery levels
Alkitronic® specials
Very low repair requirements: Robust motor housing made of special polymer. It is break-proof, impact-proof, and resistant to corrosion.
● Angle-drive with optimised efficiency and great running characteristics.
● Intelligent energy management: Smart electronics protect every
battery cell from overcharging and depth discharge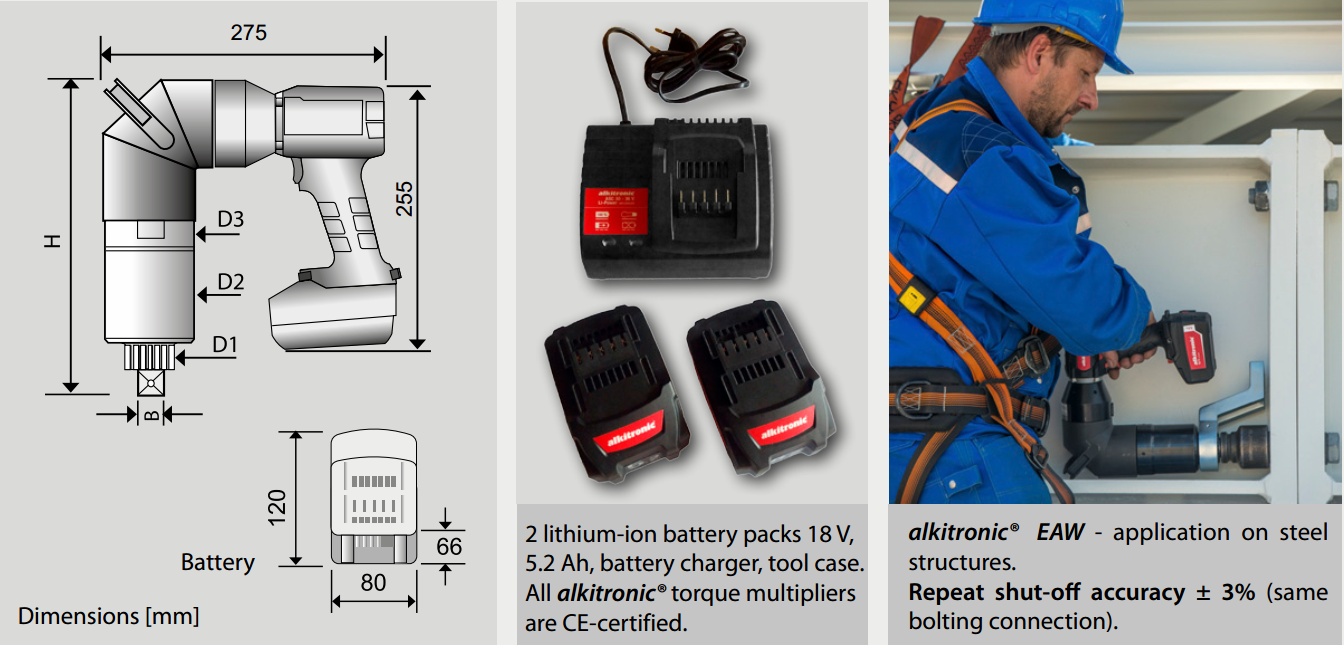 | | | | | | | |
| --- | --- | --- | --- | --- | --- | --- |
| | EAW2 / 80 | EAW2 / 150 | EAW2 / 200 | EAW2 / 280 | EAW2 / 300 | EAW2/ 400 |
| Torque range Nm | 115-860 | 150-1400 | 250-2200 | 300-2800 | 360-3200 | 500-4100 |
| Square drive | 3/4 " | 3/4 " | 1 " | 1 " | 1 " | 1. 1/2 " |
| Diameter D1 (mm) | 41 | 41 | 54 | 54 | 72 | 72 |
| Height H (mm) | 250 | 250 | 295 | 305 | 310 | 320 |
| | SKU | Price | Add | Torque range (Nm) | Diameter D1 | Idle speed gear 1 (r/min) | Idle speed gear 2 (r/min) | Square drive | Maker |
| --- | --- | --- | --- | --- | --- | --- | --- | --- | --- |
| | EAW2 / 80 | Price on request | | 115-860 | 41 | 7 | 24 | 3/4" | - |
| | EAW2 / 150 | Price on request | | 150-1400 | 41 | 4 | 13 | 3/4" | - |
| | EAW2 / 200 | Price on request | | 250-2200 | 54 | 2 | 6,5 | 1" | - |
| | EAW2 / 280 | Price on request | | 300-2800 | 54 | 1,7 | 6 | 1" | - |
| | EAW2 / 300 | Price on request | | 360-3200 | 72 | 1,5 | 5 | 1" | - |
| | EAW2 / 400 | Price on request | | 500-4100 | 72 | 1 | 4 | 1.1/2" | - |
Reviews