Soldering
REMS Contact 2000 Electric soldering the smallest, strongest and fastest
SKU:

REMS Contact 2000
---
Soldering pliers with 4 m cable length, safety transformer, 4 prism electrodes, 2 rod electrodes, 250 g quality soft solder REMS Lot Cu 3, 250 g quality soft solder paste REMS Paste Cu 3, 1 tubing cutter REMS RAS Cu-INOX 3-35, pack of 10 cleaning pads REMS Cu-Vlies. In sturdy steel case.
Description
REMS Contact 2000 – the smallest, strongest and fastest unit of its kind. 2000 W soldering power. 4 m long soldering tongs cable. Compact, powerful electric tool for soft soldering. With safety transformer. For trade and industry. For the building site and the workshop.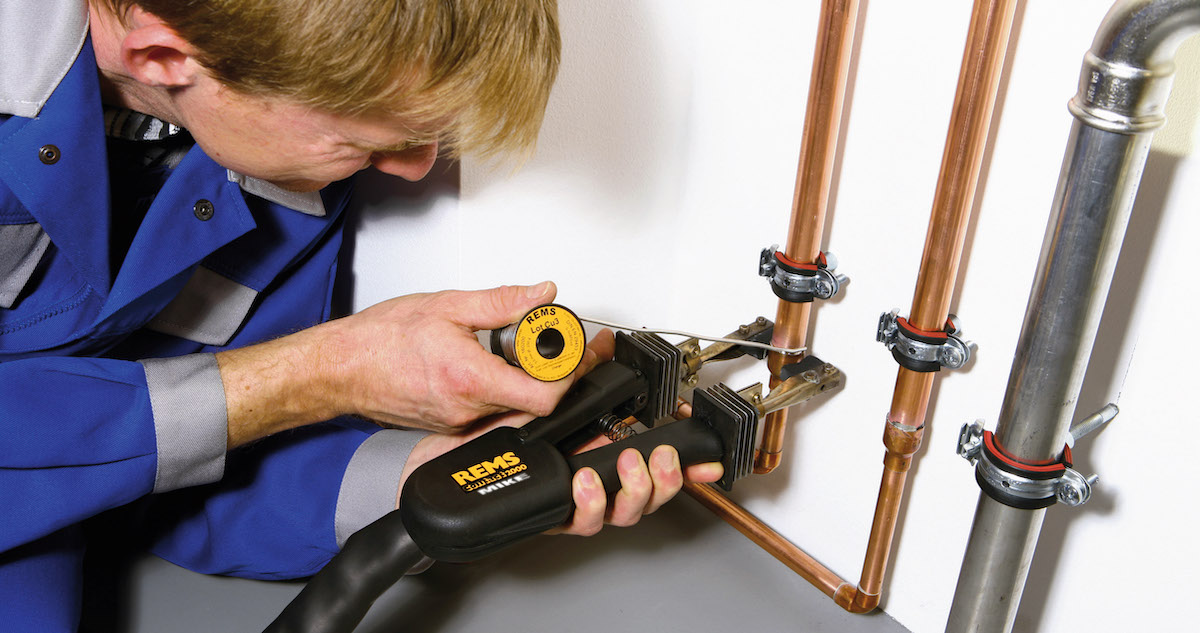 Handy, compact. Favourable weight, small in size for work and transport. L×W×H: 210×150×140 mm.
Enormous heating capacity (900°C) ensures super-fast soldering. Rated power = Soldering capacity = 2000 W! Soldering time, e.g. for Ø 18 mm in only 18 s.
Can be used anywhere, with rod electrodes in tight spots also. Ready to solder any time, to be connected to a socket only. No adjustment of soldering current necessary. Wide work radius thanks to 4 m cable length. Flexible cable protector hose.
Indifferent to temperature influences electric control of soldering current.
Prisma-electrodes for universal use, maximum use through favorable seat. Rod-electrodes for working in tight spots. Electrode holders and bolts in stainless steel. Electrodes can be easily replaced.
REMS Contact 2000 electrical data
Rated voltage (mains voltage) 230 V
Rated power input 2000 W 2000 W
Rated frequency 50 – 60 Hz
Rated current 8,7 A
Protection class I
Control voltage 24 V
Secondary no-load voltage 7 V
Secondary rated voltage 7 V
Secondary rated current 250 A
Shutoff operation AB S3 15%
(AB 0.5 / 3 min)
Protection class IP 34
Supply format REMS Contact 2000.
Electric soldering unit for soft soldering of copper tubes Ø 6–54 mm, Ø 1⁄4–21⁄8″. 230 V, 50–60 Hz, 2000 W, control voltage 24 V. Soldering pliers with 4 m cable length. Safety transformer, 2 prism electrodes. In a carton.
| | SKU | Price | Add | Chủng loại |
| --- | --- | --- | --- | --- |
| | 164050 | Price on request | | REMS Contact 2000 Super-Pack, complete set |
| | 164011 | Price on request | | REMS Contact 2000 body only |
| | 164250 | Price on request | | Empty case |
| | 164115 | Price on request | | Rod electrodes (pack of 2) |
| | 164110 | Price on request | | Prism electrodes with holders (pack of 2) |
| | 164111 | Price on request | | Prism electrodes (pack of 2) |
Reviews